Celebrity hotspot Sugar Factory American Brasserie restaurant has teamed up with Travis Scott, Dwayne "The Rock" Johnson, 50 Cent and Mario Lopez to create six new signature goblet cocktails. The restaurant and candy store chain, known for its extravagant desserts and colorful decor, has been described as "The Most Instagrammable Restaurant in America," and the new over-the-top tipples are certainly on-brand.
For instance, the Astro Fizz by Travis Scott is made with the rapper's Cacti pineapple spiked seltzer, Selva Rey rum and Teremana Tequila Blanco, garnished with two classic Astro pops. The Strawberry Hustle goblet by Travis Scott blends strawberry Cacti spiked seltzer, Voli vodka, SelvaRey rum, a dash of triple sec and peach schnapps, fresh watermelon juice and lemonade. It's topped with strawberry gummies, watermelon fruit slices and sour peach hearts.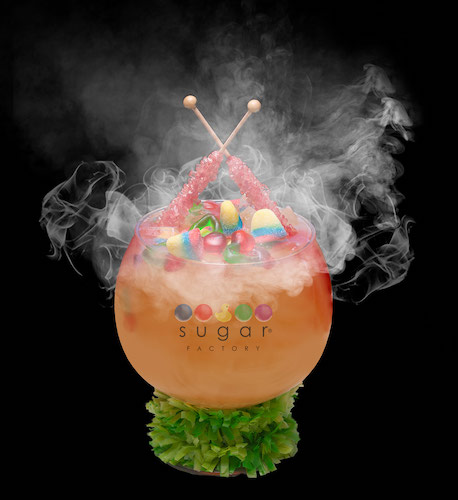 Soul Man by The Rock incorporates fresh peach and pineapple flavors, lemonade, The Rock's Teremana Tequila Blanco, triple sec and Hennessy Cognac, topped with gummy cherries, Tropical Drops, strawberry rock candy and served in a green lai-wrapped goblet.
The Peoples' Watermelon Cadillac Margarita by The Rock combines fresh watermelon juice, Teremana Blanco and Grand Marnier with a dash of triple sec, fresh lime and pineapple, topped with Sour Patch watermelon gummies, lime fruit slices, gummy pink Cadillacs and a grenadine floater.

Candy Shop by 50 Cent (shown atop), with 50's smooth Branson Cognac, Teramana Tequila and Malibu rum, is topped with fresh peaches, pineapple juice and orange juice. Monster Hurricane by Mario Lopez is made with Mario's Casa Mexico Silver Tequila, a blend of rums, and Monster energy drink.
And in a new a partnership with Snoop Dogg, Sugar Factory is offering the Strawberry Lemonade Smash, made with Snoop's Strawberry Indoggo Gin and Virginia Black Whiskey blended with peach schnapps, fresh lemonade, strawberries and a candy finish of classic lemon heads, gummy strawberries and candy lemon fruit slices.
The cocktails have been available at Sugar Factory's 20-plus locations across the U.S. since May. Priced at $38, the goblets can also be purchased without alcohol for $28.