Labor Day is late this year, but it still feels like summer just flew by. Here are seven suggestions for cocktails that celebrate the long weekend and incorporate fresh seasonal produce and herbs to help ease the transition into autumn.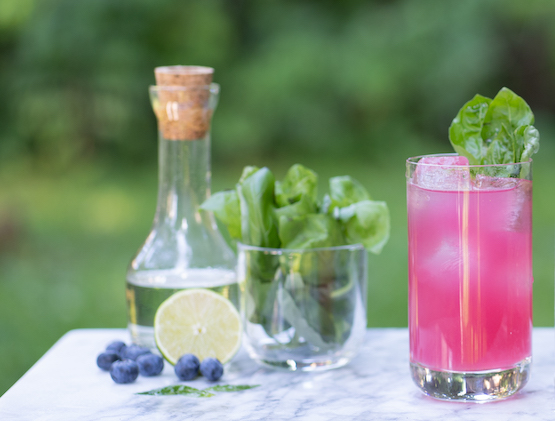 Basil Blues 
1 ½ oz. The Botanist Gin 
¾ oz. Fresh lemon juice 
¾ oz. Simple syrup 
5 Blueberries 
3 Basil Leaves 
Add simple syrup and blueberries to a shaker and muddle. Add remaining ingredients, ice and shake. Fine strain over ice or neat and garnish with basil and blueberries.
The mixologists at The Botanist created this recipe.
Quarantini
1 ½ oz. Ron Barceló Dark Series rum
1 oz. Aloe vera juice
½ oz. Fresh cucumber water
4 slices Muddled cucumber
Muddle cucumbers, then add all ingredients and shake well. Garnish with a cucumber slices or peel.
The mixologists at Ron Barceló created this recipe.
Campfire Cookout Cooler
(shown atop)
1 ½ oz. Wild Turkey 101 Bourbon
1 ¼ oz. Fresh pressed watermelon
½ oz. Fresh ginger syrup
½ oz. Fresh lime juice
3 dashes Rhubarb bitters
2 dashes Angostura bitters
Pour all ingredients into glass over fresh rocks. Top with soda water. Garnish with a dehydrated lime wheel and blue corn flowers.
Josh Cameron of Boulton & Watt created this recipe.
Chili Cucumber Sour 
2 oz. Doña Vega mezcal
3 Jalapeño slices
2 Cucumber
¾ oz. Lime juice
½ oz. Agave
Egg whites/aquafaba
Muddle jalapeño slices and cucumber. Add other ingredients and hard shake, then dry shake. Strain over fresh ice and garnish with salted cucumber/jalapeño slice skewer.
The mixologists at Doña Vega created this recipe.
Porch Thyme
1 ½ oz. Bib and Tucker bourbon
¼ oz. Lime juice
¼ oz. Simple syrup
2 sprigs Thyme
2 slices Nectarines
2 small Pancetta lardons
Sweet tea topper
Muddle fresh thyme and nectarines with lardons. Add ice, lime juice and bourbon. Shake and strain over ice. Top with sweet tea and stir. Garnish with thyme and nectarine.
The mixologists at Barnsley Resort in Adairsville, GA, created this recipe.
Watermelon Mezcalini 
1 ½ oz. Recuerdo Joven Mezcal
1 oz. Aperol
2 oz. Watermelon juice
½ oz. Rosemary syrup*
¼ oz. Lime juice
Mix all of the ingredients in a shaker over ice. Strain into a cold Martini glass, and garnish with a sprig of rosemary.
The mixologists at Recuerdo created this recipe.
* For rosemary syrup (1 cup water, 1 cup sugar, 3-4 sticks fresh rosemary – or substitute 2 teaspoons dried. Simply heat the water, sugar, and rosemary to a gentle boil and reduce to a simmer for 1-2 minutes while stirring. Pull off the heat and allow to sit for 30-60 minutes to infuse the rosemary. Cool and strain the rosemary.)
All Tea No Shade 
1 ½ oz. Ketel One vodka
1 ½ oz. Hibiscus tea and strawberry syrup
¾ oz. Lemon juice
6 mint leaves
Top with seltzer
Add ice and everything but the seltzer in a shaker, short shake, and strain. Top with seltzer.
New York City bartender Fanny Chu created this recipe.